According to Prokhorov, Putin was very focused on the tape and always tried to lead in the attack. In addition, he does not pay attention to external factors.
"He focused on giving everything for the match." said by the hockey player. Prokhorov also called the politician a player in the group. However, leadership qualities are still visible.
Vitaly Prokhorov played with the team with Putin in the hockey game the night before New Year 25 December. The head of the Ministry of Defense Serge Shoigu and Russian hockey legends like Pavel Bure, Valery Kamensky, Sergey Fedorov, Alexei Kasatono. And others appeared in the same uniform as the president.
In 1992, Prokhorov became an Olympic champion as part of the Mixed Team of athletes from the former Soviet republics. He is also known for playing for Spartak Moscow and the St. Petersburg National Hockey Club. Louis Blues.
He wears his familiar No. 11 shirt and plays in the same team as Defense Minister Sergey Shoigu as well as Russian hockey legends. Putin's opponents include Moscow governor Andrei Vorobyov, businessmen and musicians.
Hockey is the second most popular sport in Russia after football. The night hockey tournament began under the initiative proposed by Putin himself. The tournament aims to attract older people to participate by organizing competitions in the evening to enable them to play after work.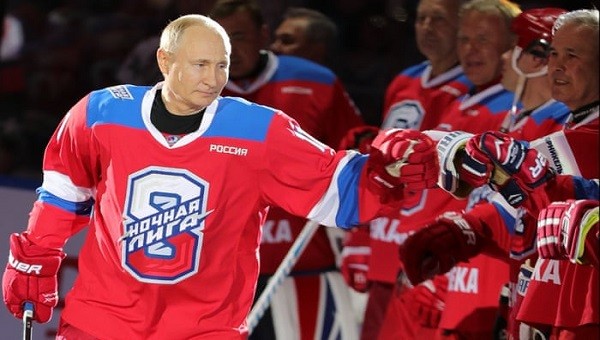 Putin started playing ice hockey when he was over 50 years old. Every year, he plays hockey once in public. Putin also played in a friendly on Red Square, just outside the Kremlin, and won with his teammates.
Russian media said that Putin's red team won with a score of 9-3. But he did not give detailed statistics on the number of goals Putin scored. Putin scored 7 goals in the match on his 63rd birthday.