The President of Russian Vladimir Putin marked his 63rd birthday with an ice hockey match along with Defense Minister,National Hockey League stars and his close friends in Sochi, Russia.
---
The Russian president has returned to the "international limelight" since launching a bombing campaign in Syria last week against Washington's disappointment.
On Wednesday, Putin marked his birthday by holding a meeting with the Russian Defense Minister before they both took off the ice in Sochi to play hockey with government officials and National Hockey League (NHL) stars like Pavel Bure, Vyacheslav, Alexey Kasatonov, Valery Kamensky and Alexander Mogilny.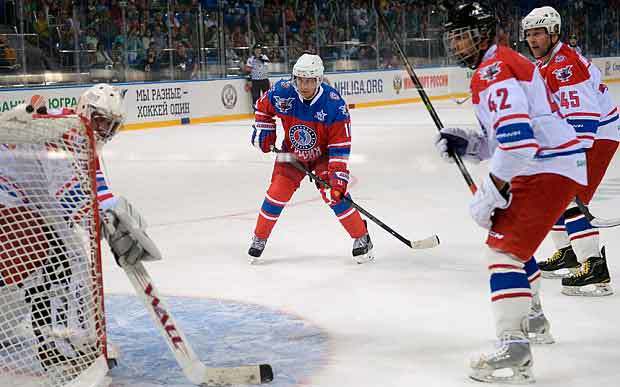 Russian president has scored 7 goals and led his team to win 15-10, the Kremlin said. The opponent of Putin's team includes his old friends and leading Russian politicians. "Those who are moving with the eyes full of victory will definitely score that point", he said in a televised speech to start the new season of Night Ice Hockey. The match is broadcast live on national television.
Ice Hockey Russian Federation awarded President Putin a prize for his contributions to sports, Rossiya 2 TV channel said on Twitter. In Grozny, the capital of Chechnya, where the Kremlin has fought two anti-secession wars over the past 20 years, Russian and Italian football players played a match in Putin's honor.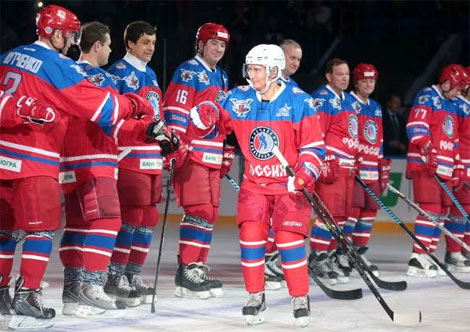 Two famous Russian rappers donate the latest song "My best friend" to celebrate Putin's birthday along with a video shot in Red Square, Moscow. This is an ice hockey game of the first Russian President's Night Ice Hockey since May 2012 in Moscow. This is the time when Putin took office for a third term.
In 2000, Putin took office as head of state and re-assumed his office in 2012. The Russian president revealed that the possibility of continuing to run for another term in 2018, meaning that he will be in office until 2024.